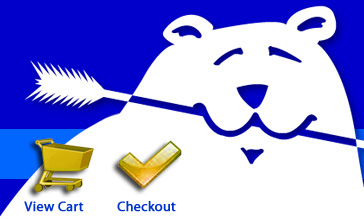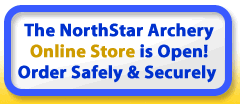 Consult your Kingdom rules for approved styles before ordering. Please understand that our hobby is an evolving activity with new equipment and rules being deliberated on a daily basis. We make every effort to stay abreast of rule changes and adjust our product offering accordingly. We cannot be held responsible for changes in Society or Kingdom law that affect the legality of products used in SCA & EMP missile combat. Make certain you fully understand the current rules governing missile combat before ordering. Orders shipped prior to changes in Society or Kingdom law cannot be returned. Orders placed, but not filled, may be cancelled without penalty.



Whether SCA, EMP, Adrian Empire, Indian Wars or others, we have you covered!
NorthStar is a premier supplier of safety missiles and components for reenactment combat archery. Visit our Online Store to see items related to reenactment combat archery. Due to their extremely rigid safety standards and consistent methods of manufacture, we offer Lu-Shan UHMW Blunts and the new Star Blunt. There are now more than one type of blunt out there and their application and installation instructions vary.

Please thoroughly familiarize yourself with the types and seating methods before showing up on the field. Failure to do so could have serious consequences, not the least of which is injuring a fellow combatant. This circumstance aside, there are few things more irritating than to arrive geared up for battle only to have your entire ammo supply flunked by a marshal for improper construction methods.

NEW - 08/25/2022 - About the new Star Blunts
The new STAR blunt has recently been approved by the BoD of the SCA, thanks in large part to the tireless efforts of Baroness Sara. It had previouslybeen approved for use by the EMP.. Unlike the hand carved, UHMW inner core of the Fathead and the Fathead-2, the Star Blunt has a redesigned inner core that is injection molded. This innovation vastly improves consistency over the hand milled UHMW. Externally it looks exactly like the Fathead-2 blunt except for the color. All a Fathead-2 blunts are black. The STAR blunts will be different colors, but not black.


We are pleased to offer high quality 1/4" solid fiberglass pultrusions custom formulated in SCA-approved materials and fabricated exclusively for NorthStar Archery by certified manufacturers. Remember, fiberglass pultrusions are not created equal. Using a variety of resins, core materials and uniformed glass filaments, PolyOne Glasforms delivers quality and consistency far above competing and off-the-shelf products. Maintaining dimensional tolerances within ten thousandths of an inch, and post-production tolerances in excess of industry standards, you are assured a predictable durable product, free from defects. We NEVER sell factory seconds or mismatched stock as you will find with other suppliers.

Don't be fooled by low-cost rod stock. Final assembly of your arrows or bolts is not the time to discover that they don't quite fit or the adhesives won't stick, or they are curved. If you want consistent, accurate rod specifically designed for SCA combat arrows, trust none other than NorthStar Archery shafts.